Busan
Busan is one of the most popular beach resorts in South Korea, due to its premium location on the south-eastern most tip of the peninsula. The subtropical climate has thousands, nay, more accurately millions flocking to claim their square metre of beach during the summer months. This is no exaggeration, quite literally anyone who has the means tries to make their way down to the two most popular beaches: Haeundae and Gwangali. This means that during the peak summer months, from June to August, the prices of accommodation in Busan rise with the drop in availability. This doesn't mean that Busan can't be done on a budget: especially if you're an English teacher trying your hardest to save every last won, or a backpacker trying to stretch every last won, this is true even during the busiest time of year.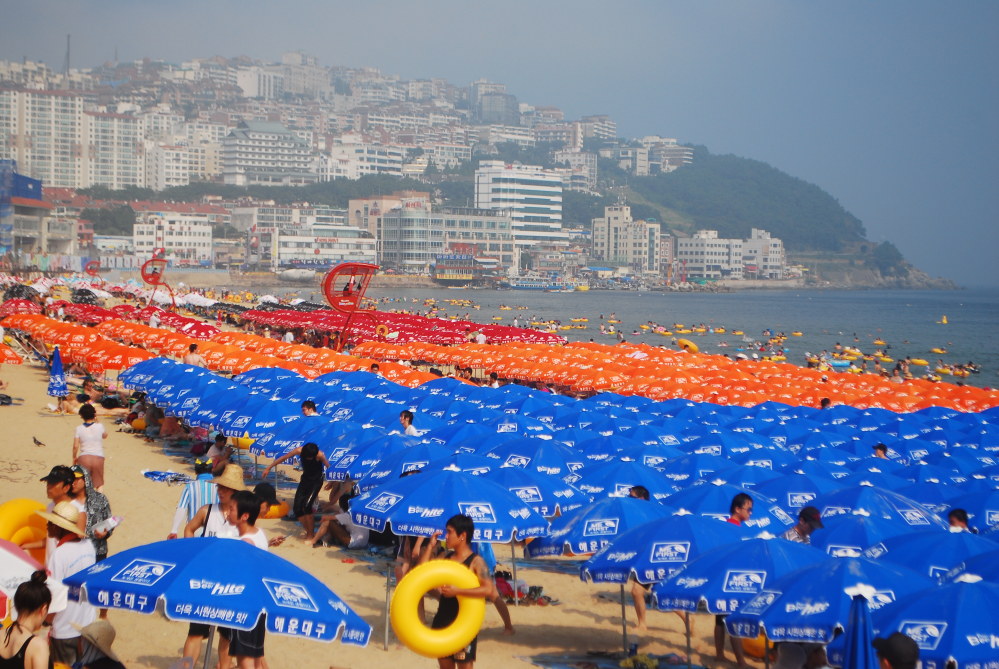 How to get there
You can easily get to Busan by bus, instead of flying or taking the KTX (Korean Train eXpress). It will take you nearly twice as long, but you'll save about 50% of what you would have paid on the KTX and have the opportunity to admire the rustic landscape along the way.
Getting around
You'll want to invest in a one-day subway pass. For only KRW 3,000 you can jump on and off the subway an unlimited number of times before the clock strikes 12:00a.m. If you make more than three subway journeys during the day you'll already be saving, so make the most of it. You can expect to pay KRW 1,000 for a single journey on a city bus. If you're going to do lots of walking, as I always do, leave your bags in a locker at a subway station to collect later, this is also mere small change.
Where to sleep
If you're an enthusiastic backpacker you can spend a night Korean-style at a Jjimjilbang – public sauna. Keep your eyes open for the red symbol of a plate with rising steam. Just be warned that you'll need to strip off your entire kit to use their facilities, which include showers, public baths of different temperatures some of which have added minerals, hot rooms where you can sweat it out, ice rooms and massage tables. You'll be given a 'uniform' (usually pink or blue depending on your gender), so that you may enter the unisex communal room, which usually also has a snack bar or restaurant, an internet cafe, a TV room and perhaps even a karaoke room. If you don't mind sleeping on a mat on the floor with a wooden block under your head, it will only set you back between KRW  6,000 to 12,000 ($6-12) depending on the facilities. Most Jjimjilbangs will keep your big bags at the front desk free of charge, but lockers are also available as part of the price. If you're lucky you might find a free power socket where you can charge your cellphone and camera batteries.
Alternatively you can try a love motel, despite the connotations typically associated with the name they are usually clean, fairly spacious and most have a wide screen television and computer with internet access. They are not too expensive in comparison to typical accommodation, on average ranging from between KRW 25,000 – 40,000 ($25-40) per night.
Where to eat
You'll be able find many greasy spoons, from ramen noodle soup bars to traditional Korean restaurants further inland around the Haeundae and Gwangali areas. The more expensive restaurants are situated along the beachfront promenade. The beachfronts are also dotted with coffee shops (which can be a little expensive at times). You can buy kimbap and ramen noodles at convenience stores, such as GS24, for no more than KRW3,000 ($3).
If you enjoy eating seafood then Jagalchi fish market (located at Jagalchi Station, Line 1, Exit 10), the biggest seafood market in South Korea, and it's certainly worth a visit. Here you can purchase the catch of the day, fresh! And by fresh I mean still swimming fresh. You can have it prepared for you on the spot, although be careful as it can get a little pricey if you're too big a sushi enthusiast.
There are many free sightseeing spots around Busan and others where you'll have to fork out a few bucks. Please see the following post on what to do in Busan.