Two hours from Johannesburg, on the rim of an extinct volcano, lies Kwa Maritane – a four-star bush lodge in the malaria-free Pilanesberg National Park, where elephant footprints are tracked by day and lion calls are heard at dusk.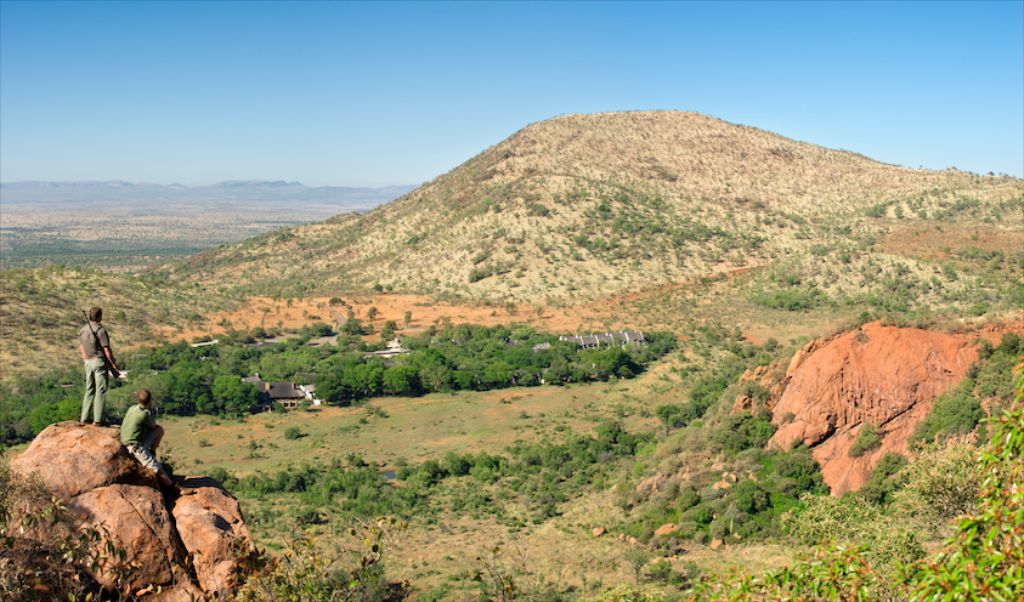 A young wildebeest springs across the dirt road, dust rises from behind a bush. As our guide, Francois Mare, switches off the engine the sounds of twilight seem to emerge. A lion walks in front of our Jeep, his eyes reflect in the headlights as his undulating shoulders move his head from left to right. He is looking for a quiet place to soothe his hunger as he lays down his kill behind a tree with low hanging branches.
Two lionesses stalk his tracks, one lets out a bellowing call – they're impatient to eat. The lionesses approach him from the side, at first with caution as they zigzag closer and then with more certainty. He rises, approaches them and with a bloodstained mouth lets out a guttural roar. They circle for a while longer, but soon retreat to the other side of the road, to wait their turn. It's a small kill, so perhaps they won't eat tonight.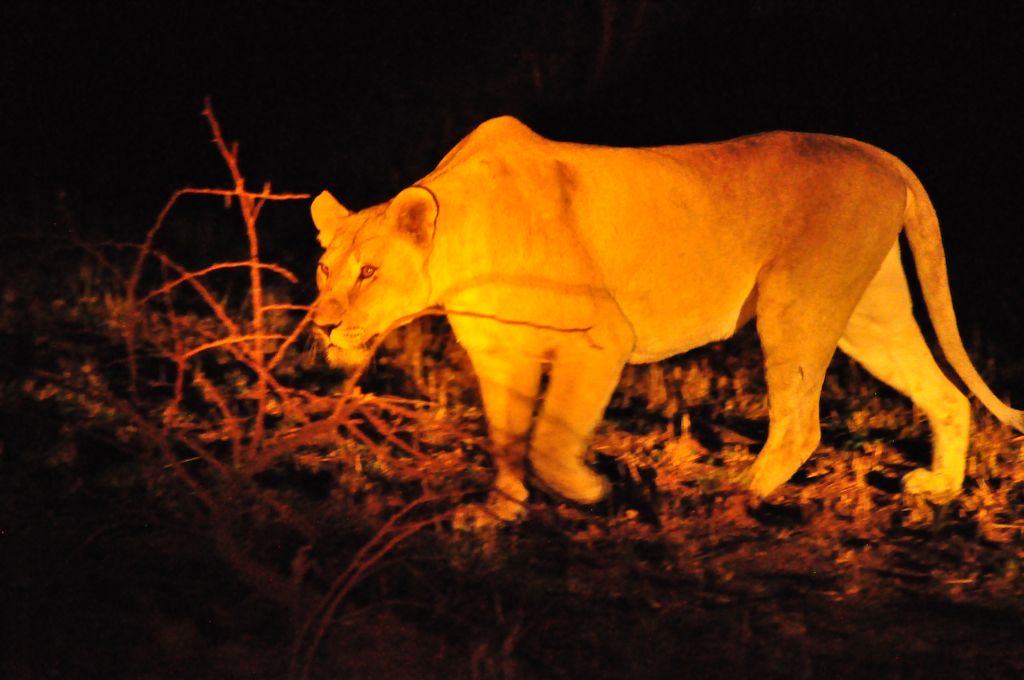 Darkness has swept the sky and now we, too, are hungry. A buffet-style dinner is served in the bush boma beneath the illuminated sky. The rattling feet of the Zulu dancers part to make way for us to enter the kraal-shaped boma. Burning torches lead the way to hostesses, who greet us with traditional ginger beer and warm hand towels.
After speaking to the executive head chef, Jurgen Kilanowski, I find out that like me he has Polish (and German) heritage – although his name and surname do give it away. Tonight, he and his team of 28 cooks have prepared our dinner in cast-iron potjie pots. There's everything from a selection of soups and freshly baked breads to an array of salads and Moroccan tagine. There's even a make-your-own-salad station as well as vegetable dishes and bakes. The meat lovers indulge in oxtail potjiekos, tender Kudu stew, roasted leg of lamb with mielie pap. It's easy to over-indulge, but be sure to leave space for dessert.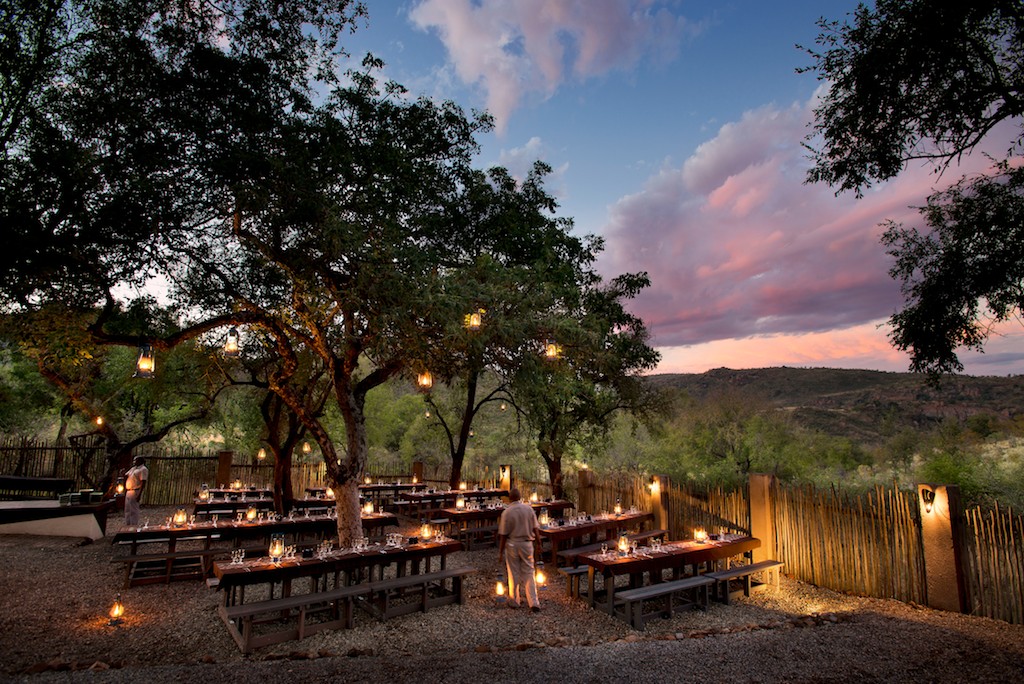 Our dinner talk is peppered with superlatives, interjections and the odd expletive – all justified, of course! We surmise how the attack happened – had the lionesses run the calf from the herd, which then jumped into the lion's hiding place?
As the conversation thins, our attention turns to the male dancers, who entertain with their stomping footwork and twirling springbok hide skirts, as the females sing to our rhythmic claps. A group of rosy-cheeked kiwis jump up to participate – they're celebrating as The All Blacks won the rugby earlier.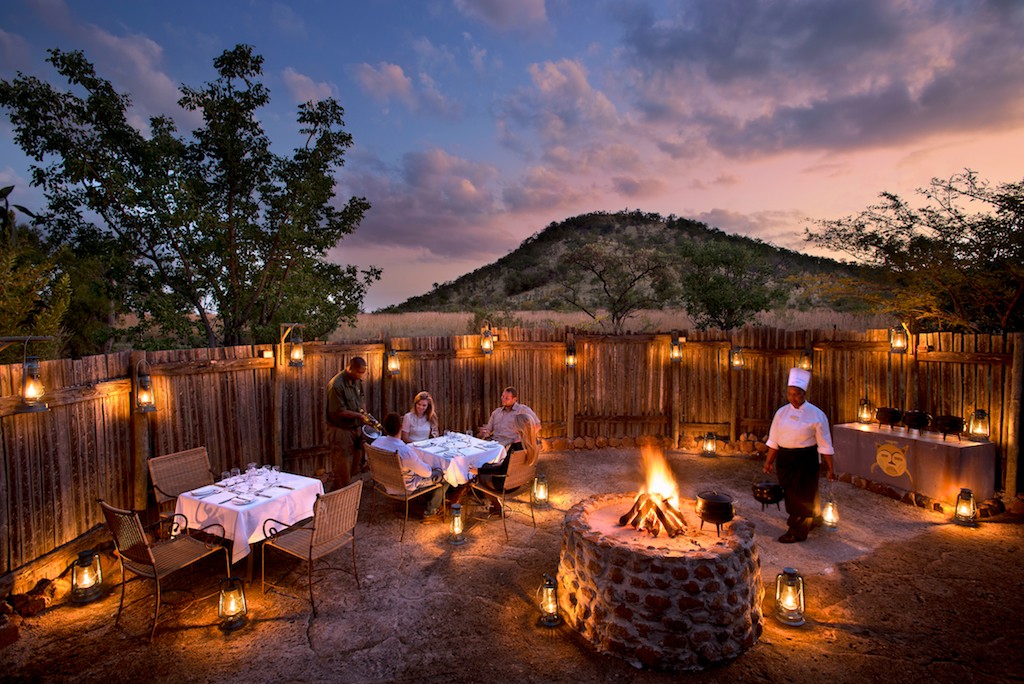 The aptly timed owl's hoot signals bedtime and we are driven back to the lodge. Two hares hop to the safety of darkness as we drive by. We spot an owl on a bare branch, but she doesn't want to keep us from our king-size beds and flies off. Snapping branches draw our attention to a herd of foraging elephants by the side of the dirt road. I want to stay longer, but as we pull off after a few minutes, Francois assures us that we'll see many more during our stay.
And he's right because shortly after daybreak at the game hide, which is eye level with the watering hole, we see an elephant cow with her two calves. The game hide is only accessible by a 150-metre-long underground tunnel and we later learn that the cameras here are controlled by a group of female retirees somewhere in the United States. Talk about living vicariously through technology!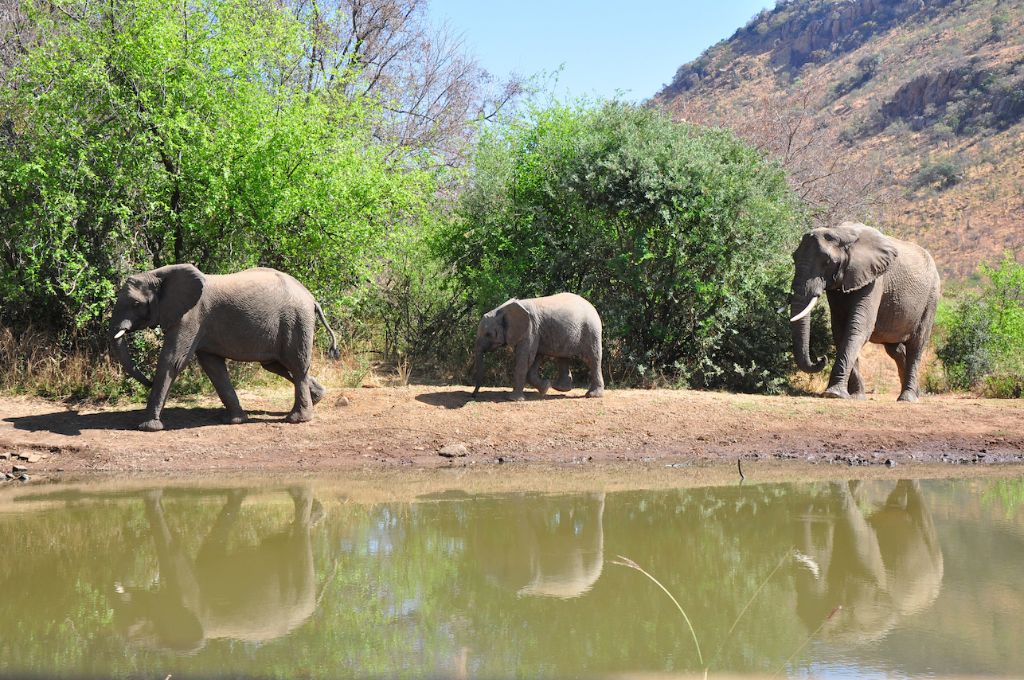 As she hurries them along, so we hurry to the restaurant's veranda to photograph the herd dawdle around the open veld. Telephoto lenses emerge, yet some guests – especially those who have been at Kwa Maritane for a few days – continue eating their breakfast as though this were the norm. And it is, Francois tells us. He explains that elephants, wildebeest, zebras and various antelopes often graze on the stretch between the lodge and the granite outcrop that outlines the horizon. There's a herd of zebra at the watering hole that's overlooked by the restaurant.
Later, I read Howard Jacobsen's Whatever it is, I don't like it by the poolside and my laughter competes with the children's laughter as they play on the jungle gyms.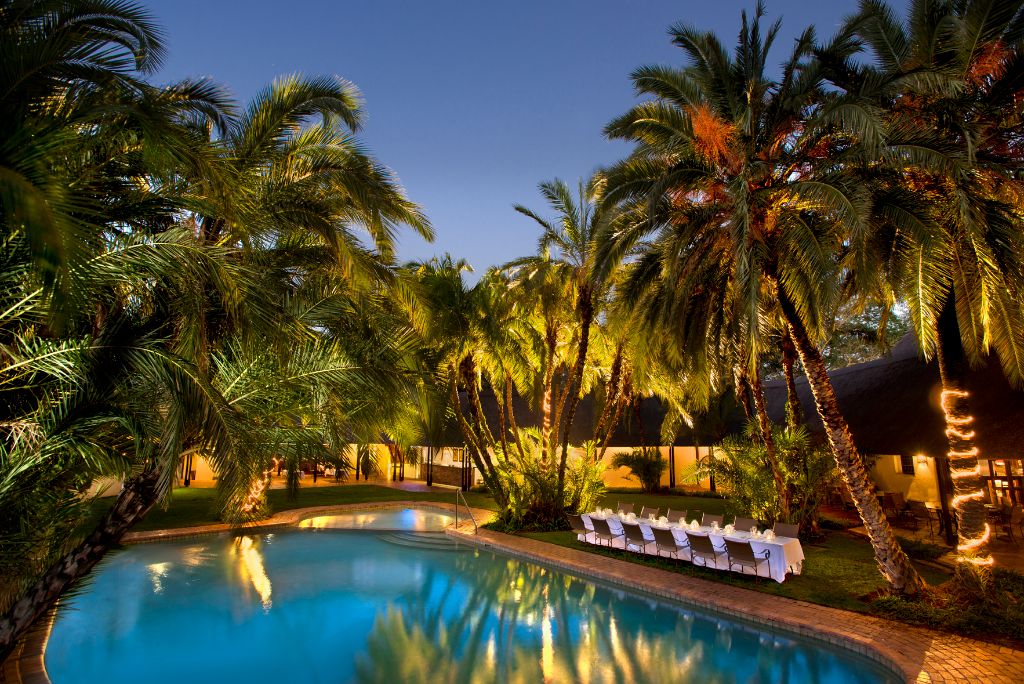 After my calabash massage that incorporates Aloe Vera essential oils, calabashes of various sizes and ends with the sounds of a wooden rainmaker, I test the waters of the spa's heated plunge pool. I place my chin on the back of my flattened hands and observe the herd of elephants that are now foraging on the green hill less than 50 metres away. I continue to watch them for the better part of an hour from the lounger on the wooden deck.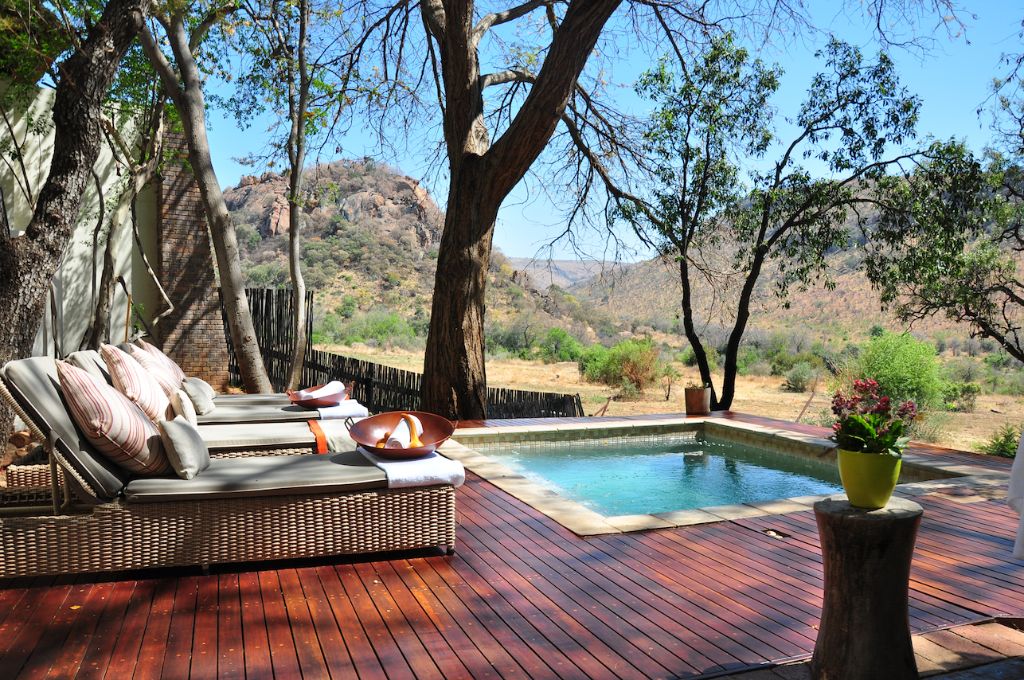 That evening, between Francois and Wayne – our friend who is a member of the West Rand Astronomy Club – we're given an Astronomy 101. Through the telescope we observe Alpha Centauri – the closest star system to our solar system – the butterfly cluster, the Waxing Gibbous moon and outline Scorpio with our index fingers. As I marvel at the Milky Way, I consider the hundreds of billions of stars overhead and that we're standing on the edge of a volcano that last erupted 1,300 million years ago – this is the place of the rock, where lions roam.
Kwa Maritane Bush Lodge Website
Tel: +27(014) 552-5100
Email: [email protected]
Photo credits: Iga Motylska and Kwa Maritane.