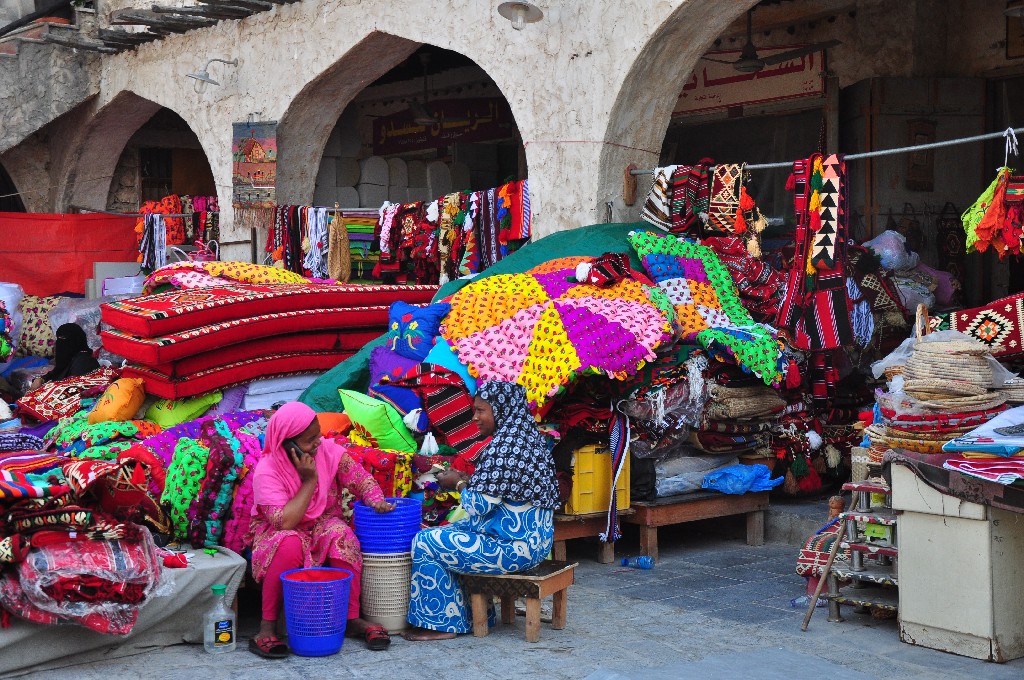 Just over a decade ago, Lonely Planet named Qatar one of the most boring places on earth. And truth be told, I wasn't particularly thrilled at the thought of a 21-hour layover in Doha due to a missed connection because of insufficient lead time on Qatar Airways' part. I had a 32kg bag full of, mostly, winter clothes in need of a wash, a nose full of flu, and should have been back home, putting my feet up after a three-week trip, on assignment, to England and Greece. I'm a curious flaneur at heart, but I was smelly, sick, exhausted from the tragi-comic events of my trip and longing for the ease of familiarity. I just wanted to be home.
The thing is, such generalisations made about entire nations and their people are detrimental, even if they are only in our thoughts and not spoken out aloud. And they are usually made based on little experience, when time is limited and a certain mood pervades our minds. I felt, what Alain de Botton, of The School of Life, so deftly pointed out in his video on the Problem with Travel, that we bring ourselves, but also our daily frustrations, along to every destination.
"That will mean bringing along so much of the mental baggage that makes being us so intolerably problematic day to day — all the anxiety, regret, confusion, guilt, irritability and despair. None of the smear of the self is there when we just picture a trip from home, in the imagination we can enjoy unsullied views, but there at the foot of the golden temple or high up on the pine-covered mountain we stand to find that there is so much of us intruding on the vistas." Alain de Botton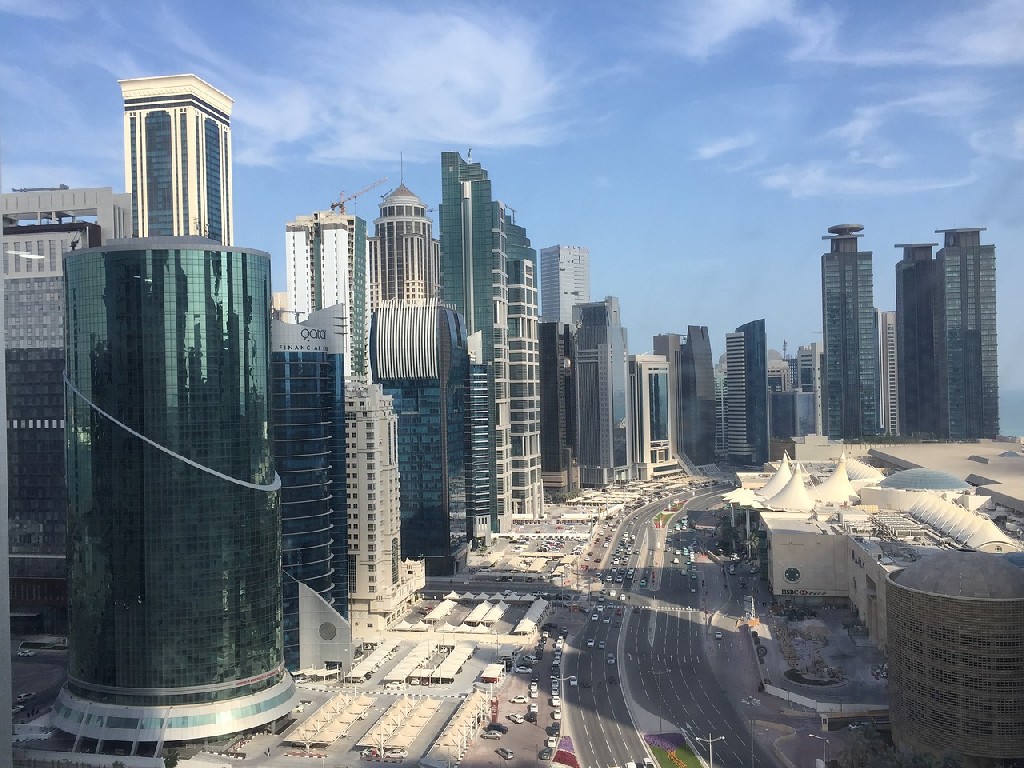 De Botton's thoughts really resonate with me because when we daydream and plan an upcoming trip, we conveniently omit from our minds all the tiresome hassles of getting there, the possibility of having our luggage stolen or accidentally taken, missing a flight, having a fall out with a travelling companion or partner, being allocated a smoking hotel room. When daydreaming of our next holiday, we never imagine the frustration we'll feel because of a language barrier, the hurt we'll claim due to cultural practices we deem inappropriate by our standards of what is acceptable and not, as well as the racism, gender-inequality, and homophobia.
For me, the layover was a realisation that at times we may misappropriate all of those internal frustrations to the destination we're travelling to. Upon our return we'll recount stories of rude and inconsiderate people, who hurried off without addressing our pleas for assistance or swore at us as we stood at the bottom of the escalators with our over-sized luggage trying to figure out where to go next. We conveniently forget that we, too, are those locals who get irked when tourists slow things down and make us miss the train or late for an appointment.
And so while I didn't fall for Qatar, given the chance I will return, stay for longer, try to get beneath its opulent gold-tinted exterior, learn more of the people, history and culture and what to expect from it in the coming years because I understand that those frustrations were external to the destination, and just so happened to be experienced there.
I don't believe that any country can be boring if you experience it authentically. Since that initial Lonely Planet statement, they have changed their tune and today have called Doha "a world-class city in the making" and "a work of art".
And so while the others who had also missed the flight went to rest at the hotel, I fought the pangs of sleep and went on a mission to disassociate my travel-related frustrations from the country and to explore the Qatari capital on a three-hour, guided Doha city tour compliments of Qatar Airways for their passengers. And to eat as much hummus as I could in the next few hours, because you can never have too much hummus.
The free tour begins at the airport, passes the Dhow harbour, Museum of Islamic Art with its seaside park, and the Corniche. It also includes a visit to the Katara Cultural Village, which celebrates local arts and heritage, The Pearl-Qatar and Souq Waqif.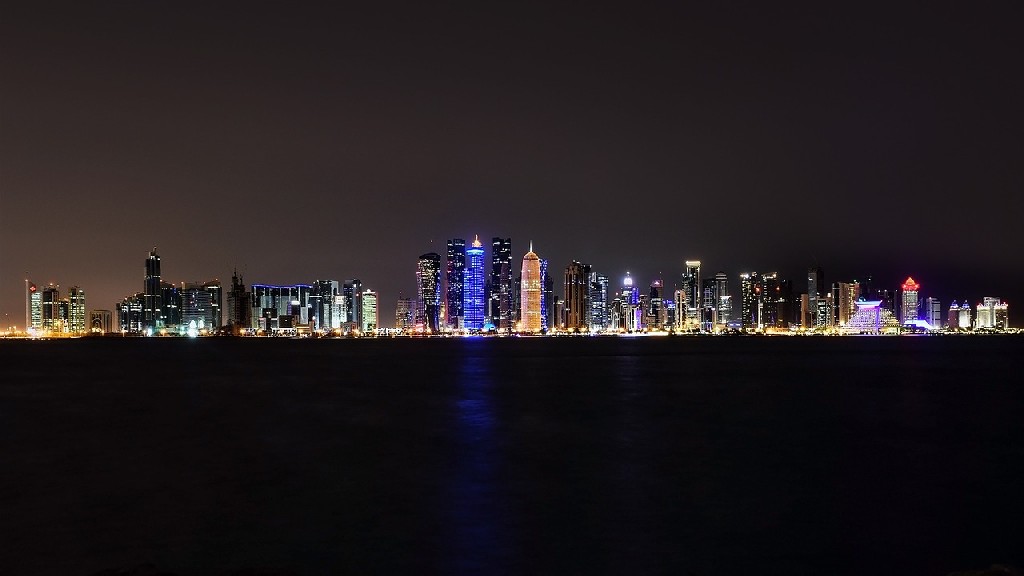 Doha's Souq Waqif
The open-air and covered bazaar at Souq Waqif was the highlight of the tour for me. It gave me a sense of traditional Qatari architecture with its exposed wooden beams and mud-plastered walls. It has many hole-in-the-wall traditional restaurants shoulder-to-shoulder with souvenir shops that sell the national Qatari dress alongside 'I love Qatar' t-shirts, as well as metal tea pots, handmade jewellery, a motley of spices, perfumes and rugs. Come here to smoke a shisha pipe, indulge in hummus and local food, and to watch the alhmalah porters go by. You'll recognise them by their maroon waistcoats as they help transport shoppers' purchases in their padded wheelbarrows, that line up along the walls when not in use.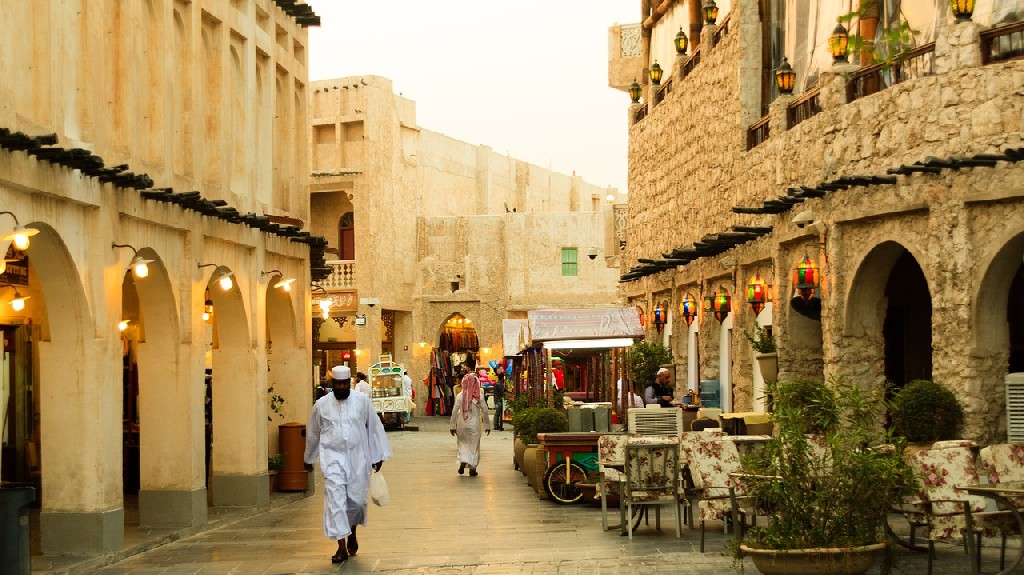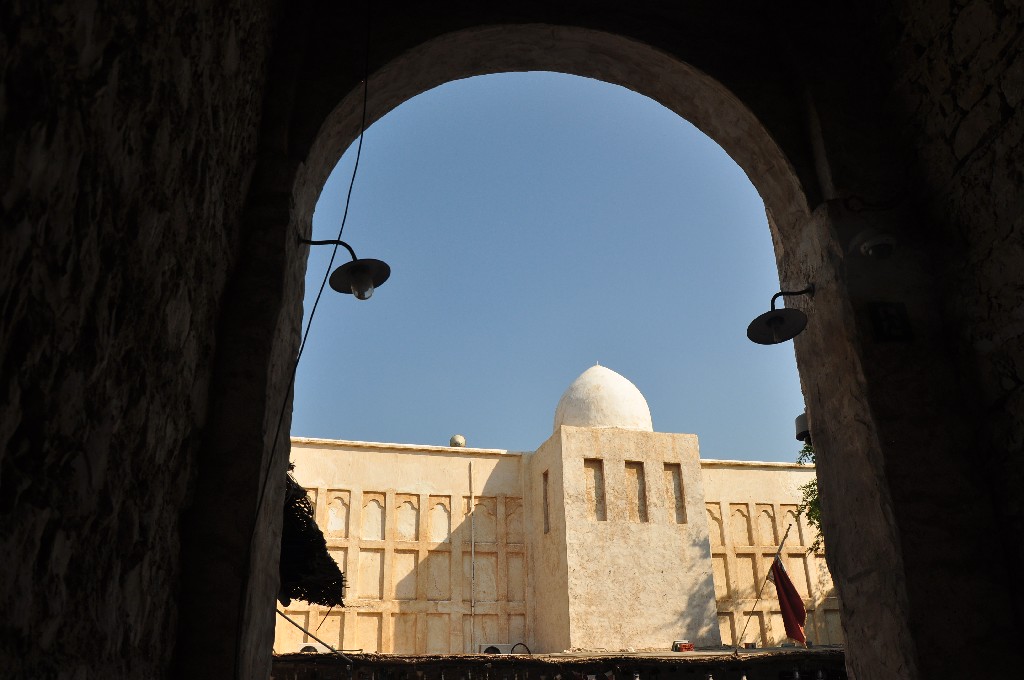 9 other things I learned about Doha and Qatar
1. In Arabic, Doha is ad-Dawḥa, which means the big tree.
2. This absolute monarchy, though only 11,586km squared, is the world's richest country based on data from the International Monetary Fund, due to the large reserves of oil and gas. Though small in size it has a GDP based on purchasing power parity (PPP) of $129,726. PPP takes into account the cost of living and inflation to compare living standards between different countries.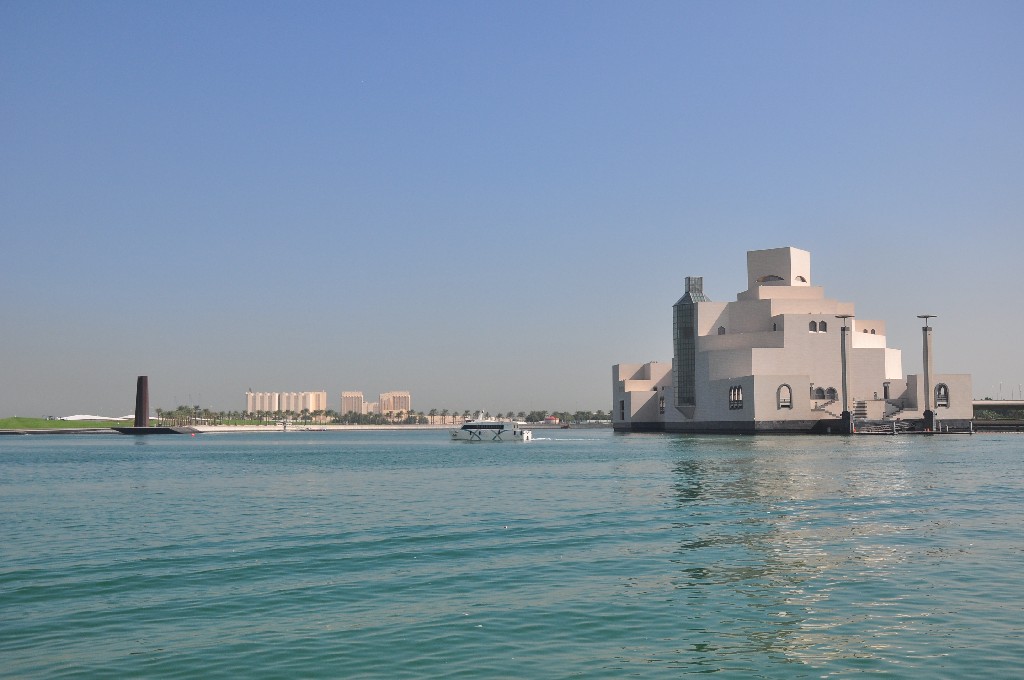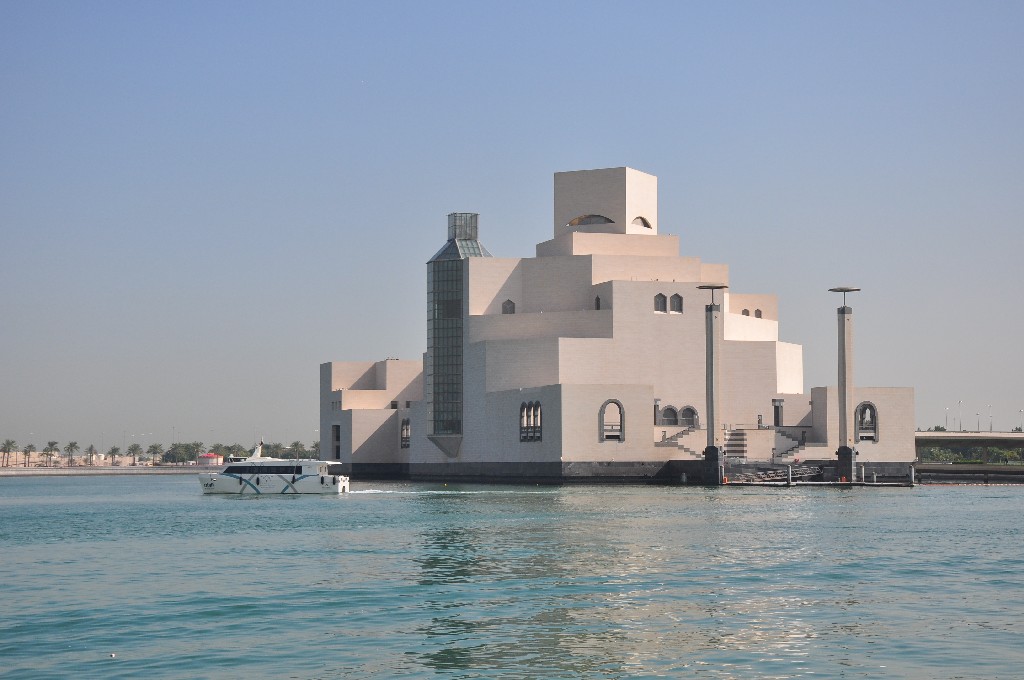 3. Qataris only make up around a fifth of the population of 2.5 million, the remainder are expats, most living in the  country for work and business.
4. The Global Peace Index ranks features Qatar as one of 30 most peaceful countries in the world.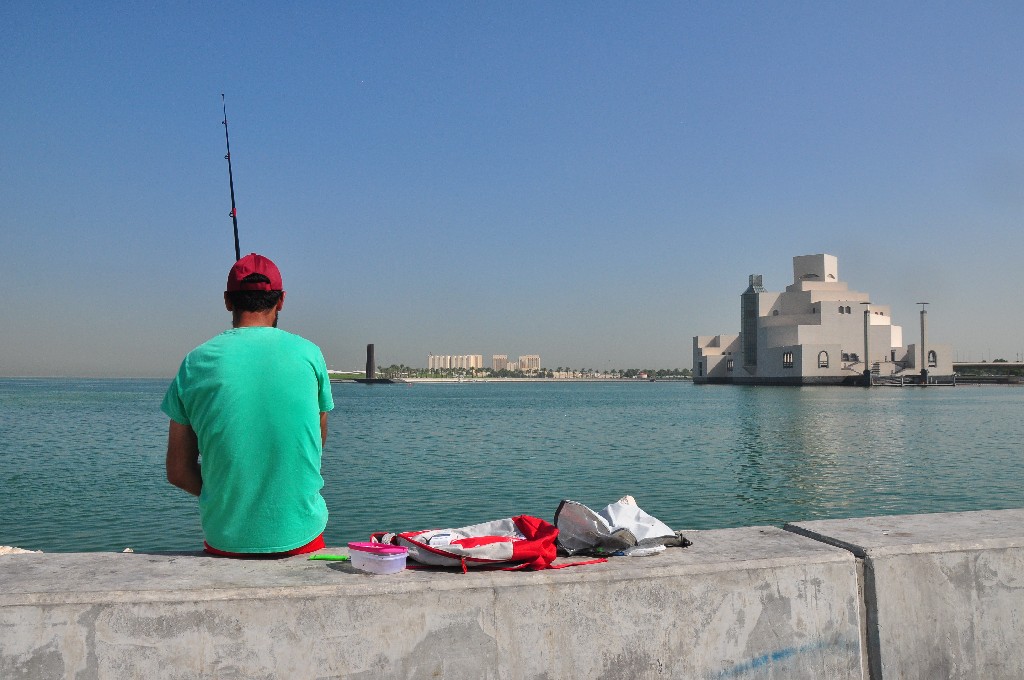 5. The literacy rate is around 97.3%.
6. The Hamad International Airport is the ninth biggest in the world and has the ability to handle around fifty million passengers each year.
7. Qatar will be the first Middle Eastern country to host the FIFA World Cup in 2022. Instead of being held in June and July as usual, it'll be held in November and December instead. Nine eco-friendly stadiums are being built for the tournament.
8. Falconry is a very popular past time, so much so that there's a state-subsidised falcon hospital, which make them much easier to maintain.
9. The Pearl Qatar is a luxury development that is built on a man-made island, which is shaped like a string of pearls, due to the fact that it was built on top of an old pearl diving site. Back in the day, when Qatar was still a British protectorate (until 1971), it was known for its pearling sector.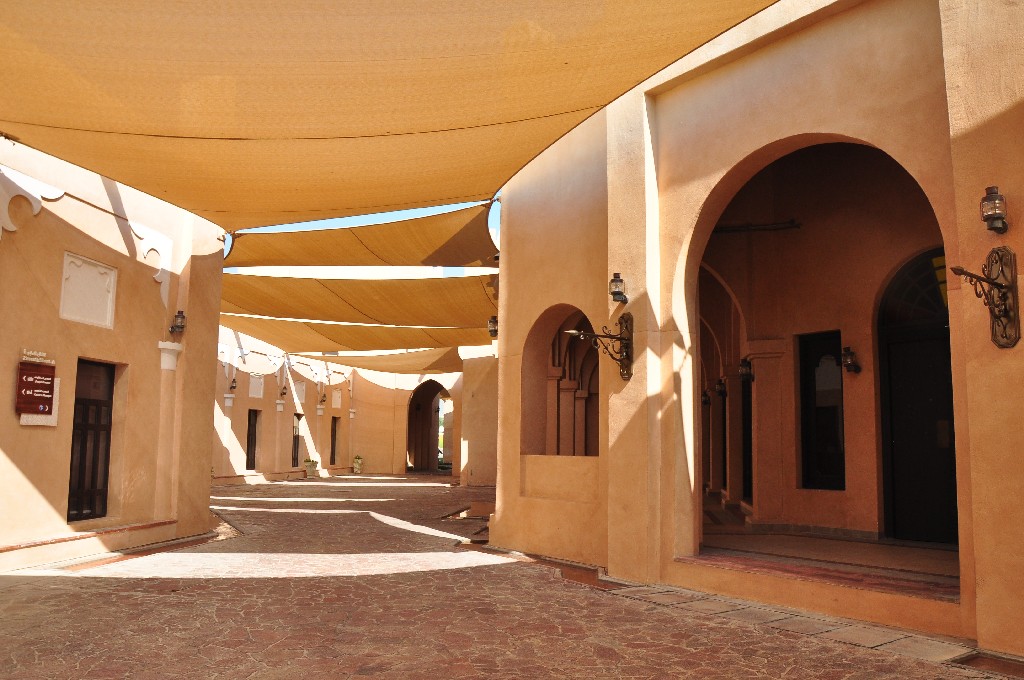 More about the Free Doha city tour by Qatar Airlines
The tour is available to Qatar Airways passengers with transit times of between five and 12 hours, with a valid passport and onward boarding pass.
Tours can't be pre-booked and operate on a first-come, first-served basis.
No more than 33 passengers can be accommodated on each tour.
The tour takes around two hours and 45 minutes
It includes an English-speaking guide and a bottle of mineral water.
Eligibility is subject to immigration approval (complimentary visa is included).
Tour start times: 6am, 10am, 3pm, 8pm.