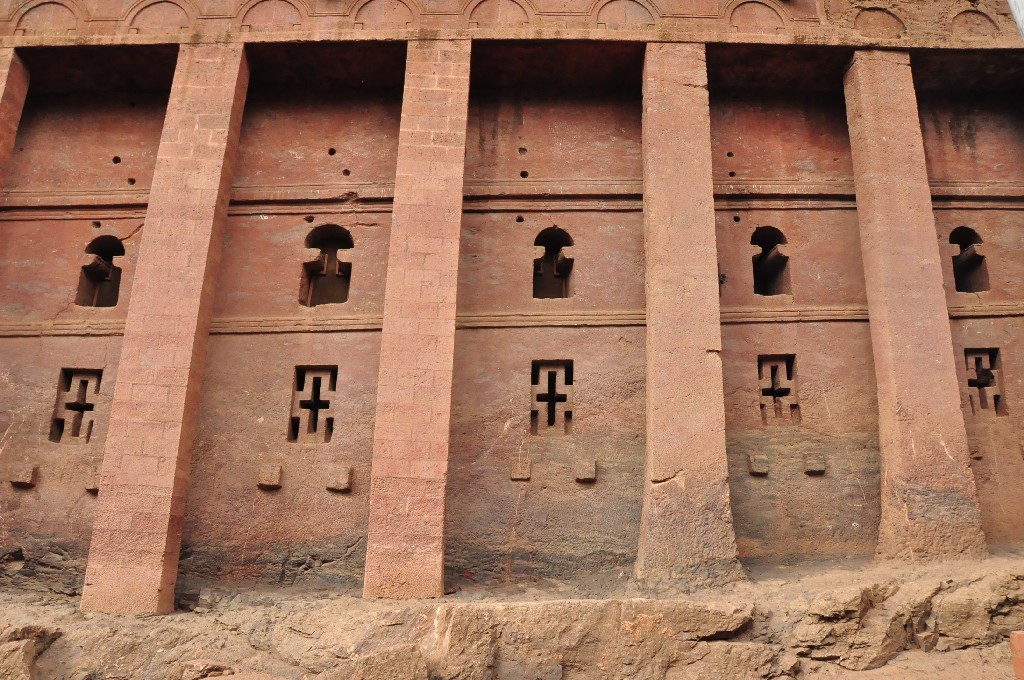 Ethiopian King Gebre Mesqel Lalibela ensured his name would always be uttered with awe, when he commissioned 11 interconnected monolithic churches and two chapels to be carved out of red volcanic tuff in the 12th century at his birthplace in the northern reaches of his kingdom, which today bears his name.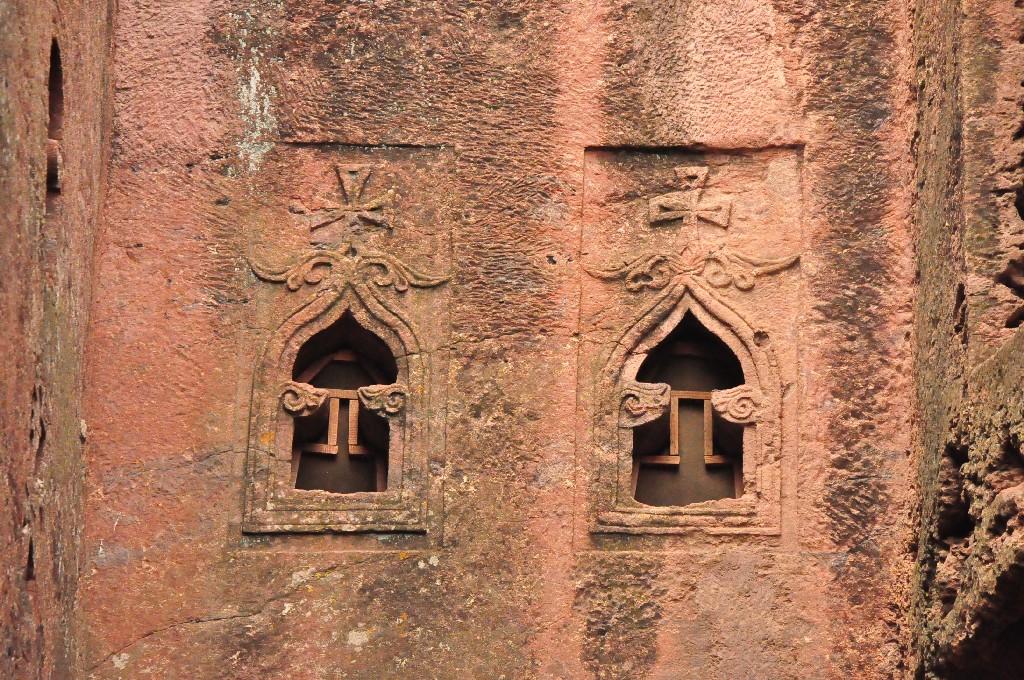 After Muslim conquests of the Holy Land prevented Christian pilgrimages to Jerusalem, an angel visited King Lalibela in a dream and decreed him to build a 'New Jerusalem' on African soil. It took hundreds of men, each paid with salt bars, 23 years and six months to excavate, based on Lalibela's instructions from memories of his visit to Jerusalem as a youth. The legend goes that men worked by day, and angles worked by night.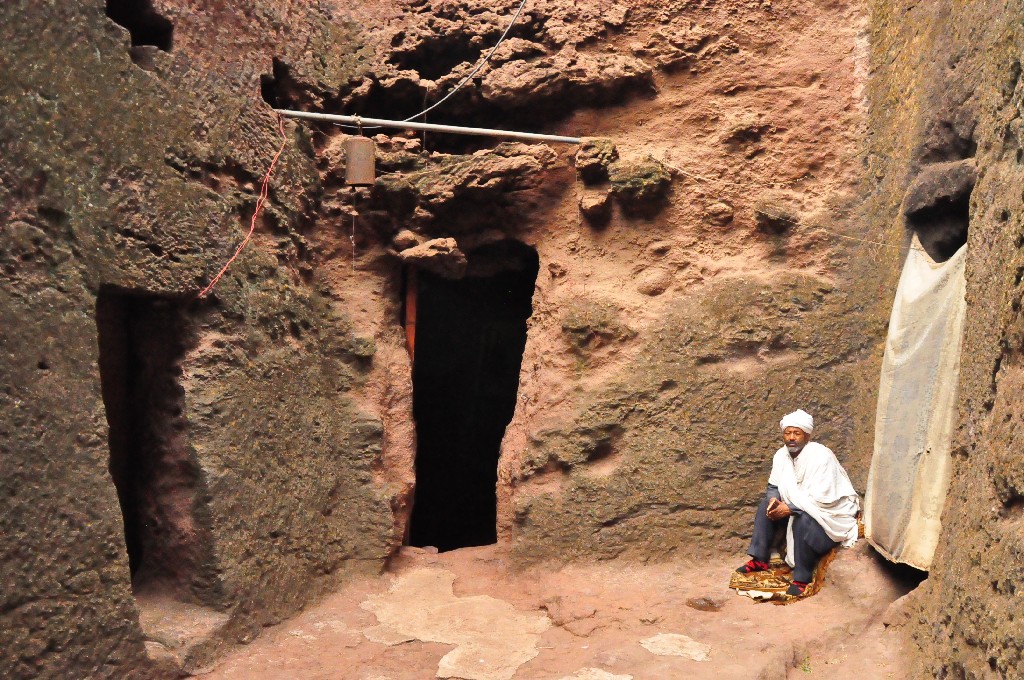 My feet are level with Bete Medhane Alem's flat roof. I'm looking down onto the world's largest monolithic church with its 36 external supporting pillars and the same number of internal pillars. Like all the other churches in the Lalibela church complex it was carved from the top down into the earth, so as to remain hidden from a distance, and then it was carved from the outside in. I see white-robed Ethiopian Orthodox worshippers as I peer over the edge into the cavernous depth. Some lean on a wooden prayer stick tucked under their armpit for support, others rest against the cold chiselled walls with their heads bent reading a prayer book. White shamma cotton wraps with bright stripes across the ends disappear into a dark tunnel before emerging in the courtyard of neighbouring Bete Maryam church.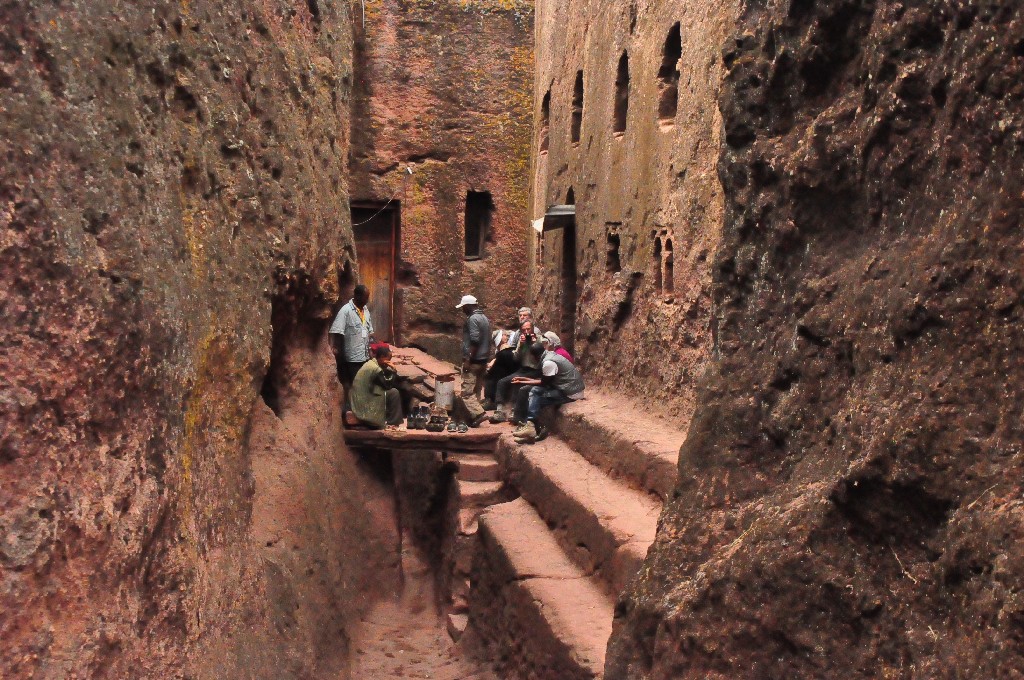 The steps have been polished smooth by millions of pilgrimaging feet during the last nine centuries. Lalibela welcomes around 80 000 pilgrims in early January to celebrate Genna, Ethiopian Christmas, following 43 days of fasting. Many devotees will only make the journey once. They walk for weeks up the Lasta mountainscape. They sleep on mattresses beneath the stars as candlelight vigils tremor with devotion. Some climb into ancient catacombs that were hollowed out of the walls, others are welcomed into local homes.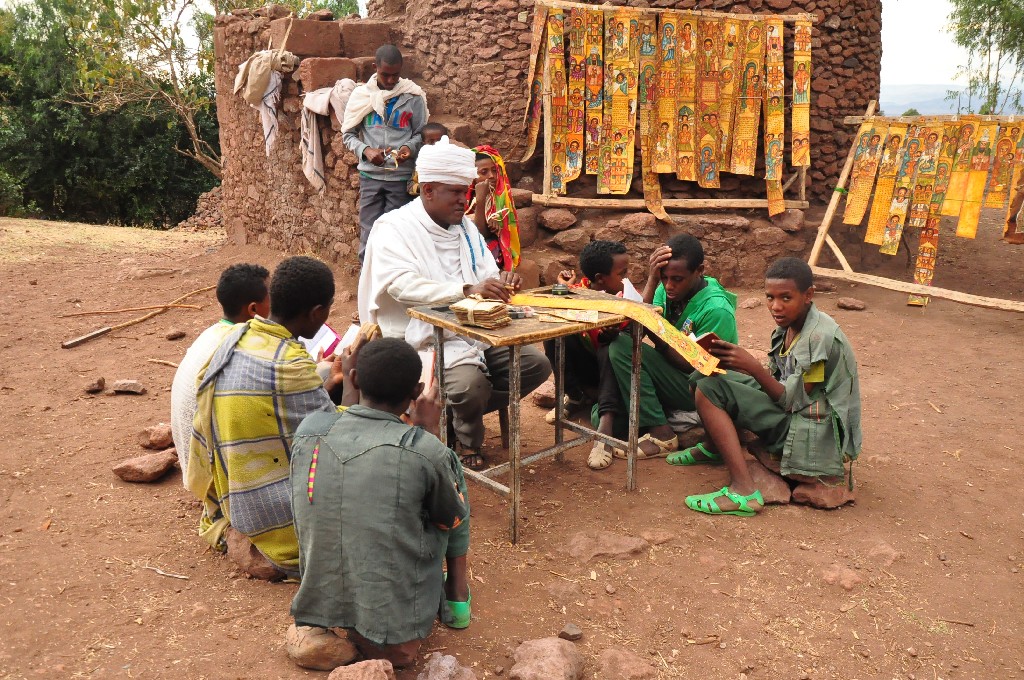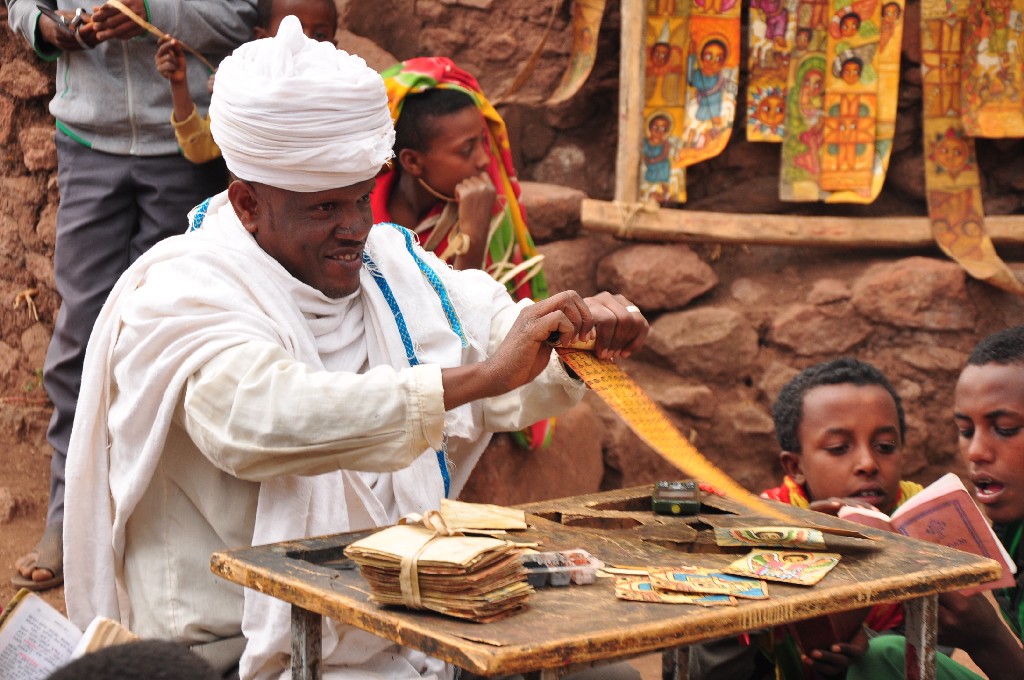 I leave my shoes on the steps at the entrance and step onto decorated carpets, glance up at fading frescos, and watch as the painted pages of holy texts are flipped through and metal crosses are held up. This rivals Europe's adorned Medieval cathedrals, even in its outwardly simplicity, especially when I remember that Ethiopia was one of the first countries to adopt Christianity. I am silenced by this feat of manpower and faith as melodic hymns take to the sky. And at 2 800 metres above sea level, I'm that much closer to Heaven.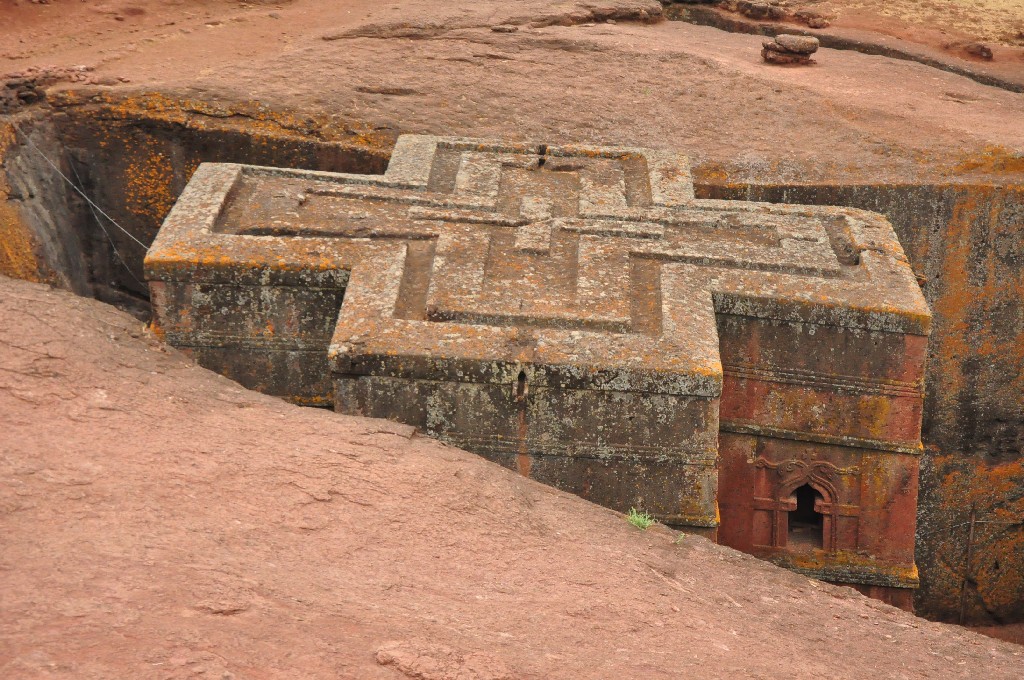 Suggested itinerary for Lalibela
You can't hurry through history, so pace your visit to this UNESCO World Heritage Site over two days and spend a day admiring the church complexes on both the northern and southern side of Ethiopia's River Jordan. Show respect, don't be too loud, and don't wear revealing clothing, cover your legs and shoulders with a scarf. Women should cover their heads too.
Day one: Highlights on the northern side include Bete Medhane Alem. Take a licensed guide on the first day, found at the entrance, who will narrate the intricacies of Lalibela and her many stories. The northern complex of churches include: Biete Medhane Alem,  Biete Maryam, Biete Golgotha Mikael, Biete Meskel and Biete Denagel.
Day two: Visit the southern side of the River Jordan in the early morning to watch scenes of worship and masses, a reminder that the churches are not mere tourist attractions. St George's Church, which is carved in the symmetric shape of a Coptic cross, is perhaps the best known of all the churches, leave it until last. The western complex of churches include the famed Biete Giyorgis (Church of Saint George), while the eastern complex of churches include: Biete Amanuel, Biete Qeddus Mercoreus, Biete Abba Libanos, Biete Gabriel-Rufael, and Biete Lehem.
Day three: trek the surrounding Lasta Mountains.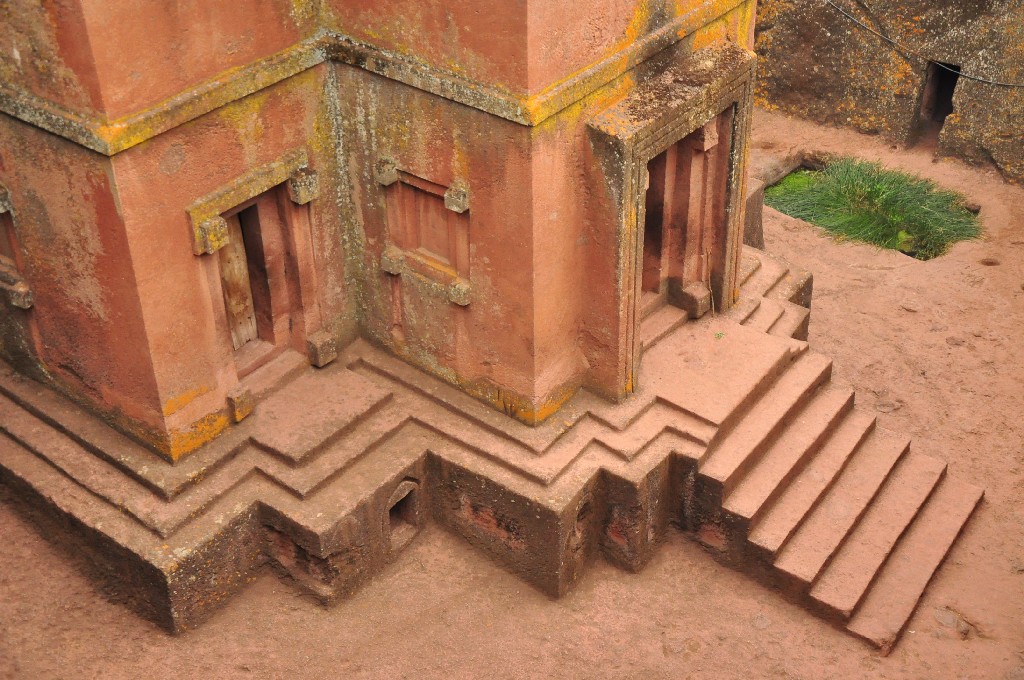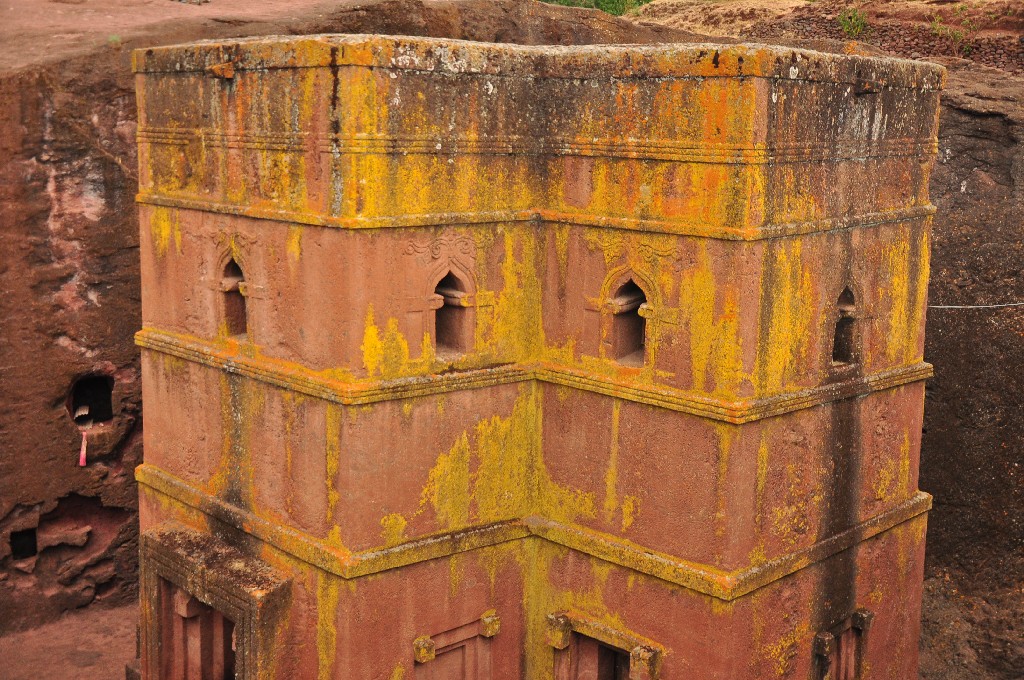 Getting to Lalibela
By air
Ethiopia's national carrier, Ethiopian Airlines, is the only airline that operates domestic flights from Addis to 19 other cities, including Lalibela. Though Lalibela Airport is only 23km southwest of the city, the drive takes close to an hour as you as you make your way up and down the grey-coloured peaks of the Lasta Mountains past round mud-and-thatch huts and children walking to or from school. There are numerous taxi services at the airport, but ask your hotel if they provide a transfer and the cost.
By car
The road to Lalibela is fine until you get to the village of Gashena, the last 1-2 hours consists of a small and unreliable road which is partly made of tarmac and partly sand. From Bahir Dar the drive takes about 7-8 hours and from Gondar about 10-11 hours. It is possible to get private drivers in both Bahir Dar and Gondar, would cost about 100-200 $ depending on negotiations, location and driver.
By bus
You can take a two-day bus with an overnight stop in Dessie, from the capital city Addis Ababa. It leaves daily at 6am. Buses also run from Gondar and Axum.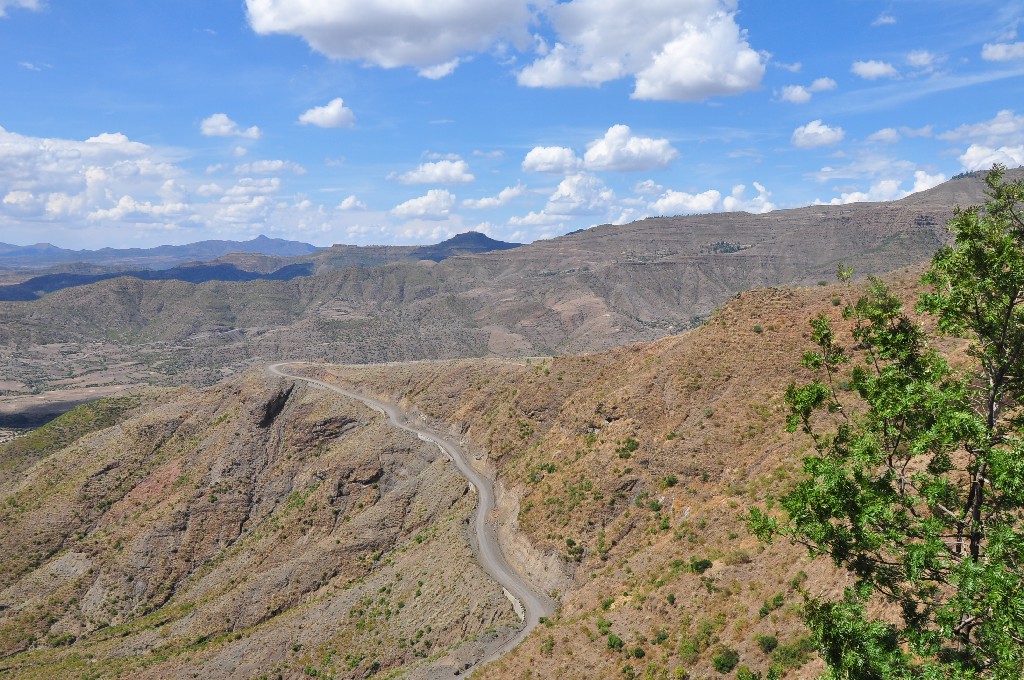 Best time to visit Lalibela
For a truly authentic experience visit Lalibela during Ethiopian Christmas, which falls on 07 January or during the three-day celebration of Timkat, Ethiopian Epiphany, that celebrates Jesus' baptism starting on 19 January (or 20 January during a leap year). Avoid the rainy season from June to August. The land is luscious and covered in wild yellow meskel flowers from September to October. Peak season is from mid-October until January. I visited in February, when the daytime temperature was temperate, while evenings and morning were cool. Remember to take something warm, due to the high altitude of Lalibela.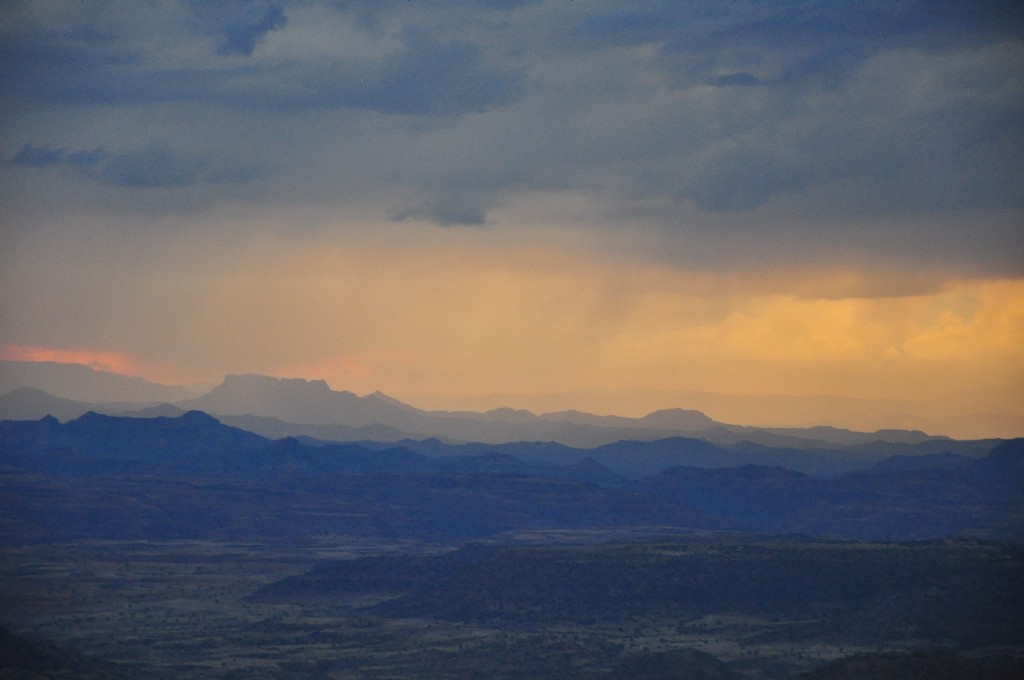 Accommodation in Lalibela
The Lalibela Mountain View Hotel clings to the edges of the Lasta Mountains and looks towards the valley with spectacular sunset views. The hotel's red, block-like architecture is reminiscent of the rock-hewn churches. Each spacious room has a private balcony and complimentary Wi-Fi, though the signal is strongest in the lounge near the reception. The restaurant serves a selection of delicious dishes, such as tilapia, chicken and beef options, prepared to international tastes. Make a special request if you'd like to try traditional dishes.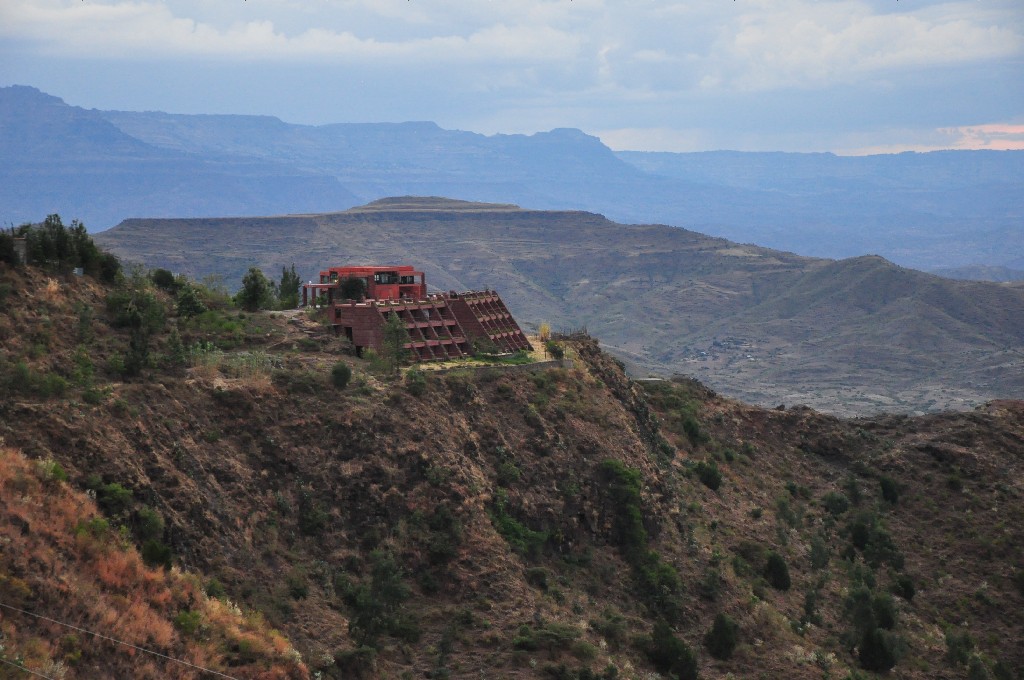 Where to eat in Lalibela
Eat traditional Ethiopian food at Ben Abeba, which is shaped like a mountain flower with numerous levels and decks overlooking the mountains.
Budget and entrance costs to Lalibela
Ethiopia is still fairly affordable for South African travellers and remains one of the 10 cheapest African countries to visit. The South African rand is around 1.75 to the Ethiopian Birr. Coffee, local food and public transport is affordable. Because it's a UNESCO World Heritage Site, entrance into Lalibela is $50 (1012 Birr) for adults and is valid for five days.
Ethiopian Visa
South African travellers are granted a 60-day visa on arrival at a cost of $50. It only takes a matter of minutes to process and it's best to pay with cash.
***
I was hosted in Ethiopia by The Ethiopian Tourism Organisation as well as Ethiopian Airlines. I also wrote about this trip as part of my freelance work. As always, I maintain editorial control of all content published on this website, but you already know that. ;)