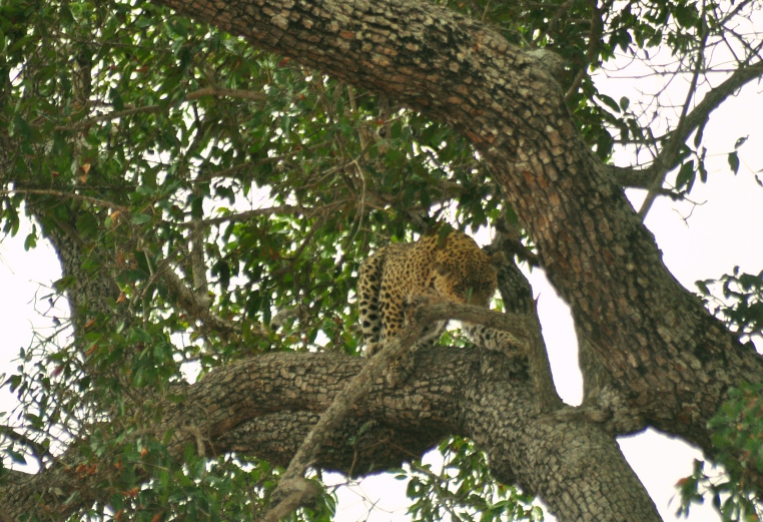 At the end of last year I travelled to Tanzania for the first time. It's the furthest north that I have ever travelled in Africa and also the closest I've been to the equator. I planned to spend 12 days between Dar es Salaam, the Spice Island of Zanzibar and in the southern safari circuit. However due to election unrest I decided to leave Zanzibar for another time. Instead, I spent my time in the famed Selous Game Reserve and explored Dar es Salaam and beyond. When I left I was determined to return to see the Great Migration in the Serengeti (the northern safari circuit). I was was lucky enough to do so a few months later. Now climbing Kilimanjaro and visiting Zanzibar is still on my list. Some of my photographs from this trip also appeared in my 2015 in Photographs post.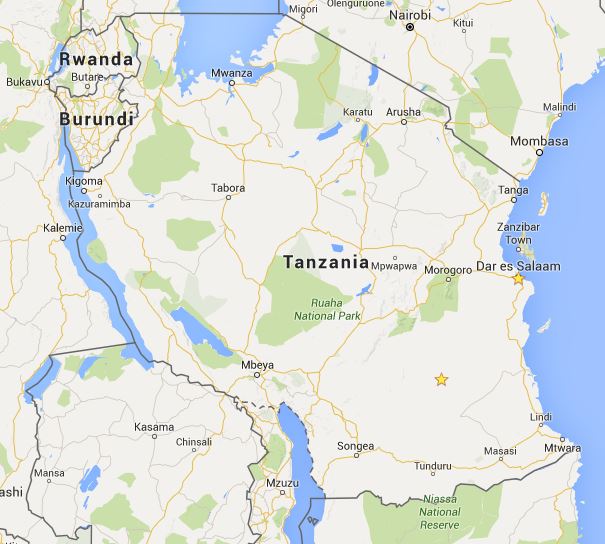 Selous Game Reserve in southern Tanzania is a UNESCO Natural World Heritage Site. Not only that but it is also Africa's oldest game reserve and the continent's largest protected area. 
The Rufiji River is a 600km-long compass needle that carves its way through the mustard-coloured sand and khaki shrubbery to the Indian Ocean. From the window of a small four-seater Cessna 206 its waters seem to flow between concave boulders, which – once the plane descends from 10 000 feet to land – turn out to be hippos and Nile crocodiles. It's Tanzania's second longest river even though it's perennial. The wet season (from April to May) sees it branch off into new tributaries that make parts of Selous Game Reserve inaccessible. "That is the power of nature and she needs to be respected," tells me Jumbe, my guide, as we drive from the dirt airstrip to Serena's tented camp. He was born into Dengereko tribe, one of the 120 villages that border the park and was perhaps destined to be a ranger, as his name means leader.
The Rufiji is to Selous what Africa's highest mountain, further up north, is to the Kilimanjaro National Park. Yet, this 55 000km2 national park makes up 5% of Tanzania's landmass and was declared a UNESCO World Heritage Site for its animal biodiversity and flora. Not only is it the largest protected area in Tanzania, but on the continent. Don't come here with hopes of spotting black rhino though, as there are only 34 in the 700km2 photographic area of the park that visitors can explore, and even Jumbe hasn't seen one in years. Instead, do what visitors travel thousands of kilometres to do: a river safari.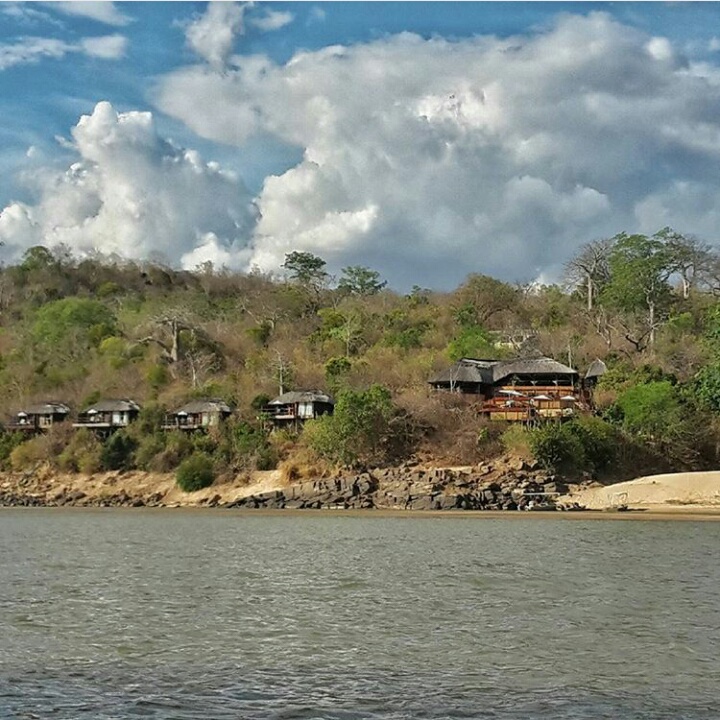 Dave and Maureen Sumner Smith from England, my travel companions for the next few days, have travelled here to do just that. And once you're here, don't settle on doing just one river safari. From Serena's Mivumo River Lodge, which stands on wooden stilts along the river bank, we embark on a late afternoon river safari downstream. Our purring motorboat startles crocodiles to nosedive into the waters. As we glide past basking monitor lizards and troops of foraging yellow baboons, Jumbe narrates how Stiegler's Gorge, with its Riverine forests and rocky cliffs, got its name. Naturally, it's a story where nature reigns supreme.
In 1907 Swiss explorer Stiegler shot an elephant. It pretended to be dead, but when the hunter-conservationist came closer to inspect the animal, it wrapped him in its trunk and smashed him against the rocks. As Stiegler has no grave – or need for one – the gorge was named after him.
By the time we turn the boat around the crocodiles have regained their confidence and clawed their way back up the sandy banks to their former lounging place, only to dash back into the waters in a synchronised routine. A Pied kingfisher swoops before us, while a Goliath heron waddles leg-deep in the waters, and an African fish eagle calls out in the distance. The riverside is the best place for bird watching. During our stay Dave ticks many of the reserve's 440 bird species off his list – osprey, Common white-headed vulture, Augur buzzard, Lilac-breasted roller, White-fronted bee-eater, Forked-tailed drongo, Yellow-billed stork, African ground hornbill and Marabou stork.
Storm clouds have been gathering and we're caught in a late afternoon shower, but even that doesn't ease the dense heat. Reprieve only comes in the plunge pool on my wooden deck that looks out onto the river's sinuous meanders. And my G&T helps somewhat too.
Serena's two camps (the other being the Selous tented camp) aren't fenced off and after sundown guests are accompanied to the restaurants by a ranger. By night the odd elephant drinks from the tented camp's watering hole and the resident hippo can be heard wallowing about.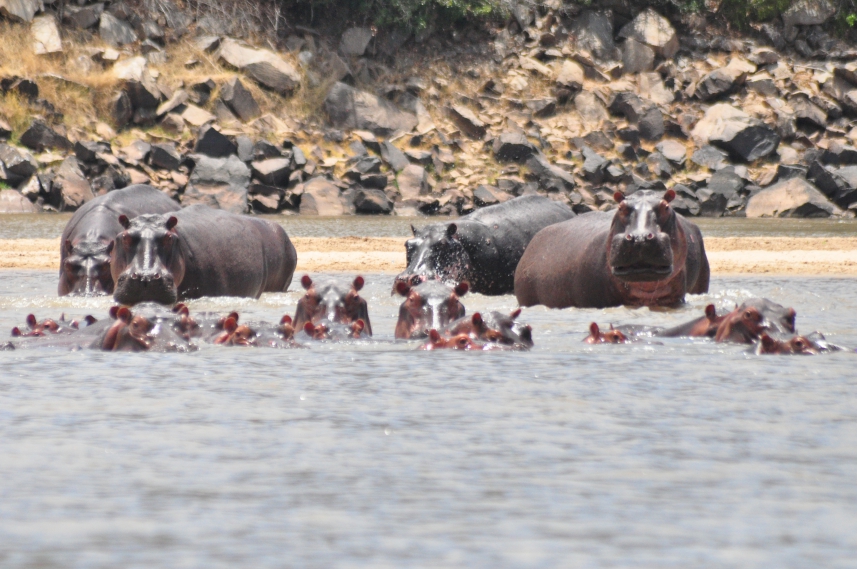 Another river safari, this time after breakfast and upstream, reveals a different landscape and set of animals. This part of the river is like the game reserve's marketplace, where grunting hippos place their bids at an auction. Mothers and their calves charge into the waters when they see us. While others keep a safe distance as they pop up around the boat and seemingly wave to us with their flapping ears.
Giraffes, a buffalo herd and elephants come to drink from the river before retreating to the shade of the trees. It saddens me to hear that while there were 110 000 elephants in the game reserve 40 years ago, today there are only around 15 000 due to poaching. The World Wildlife Fund estimates that if this demand for ivory (which is mostly driven by a few Asian countries) remains, the reserve may have no more elephants by 2022.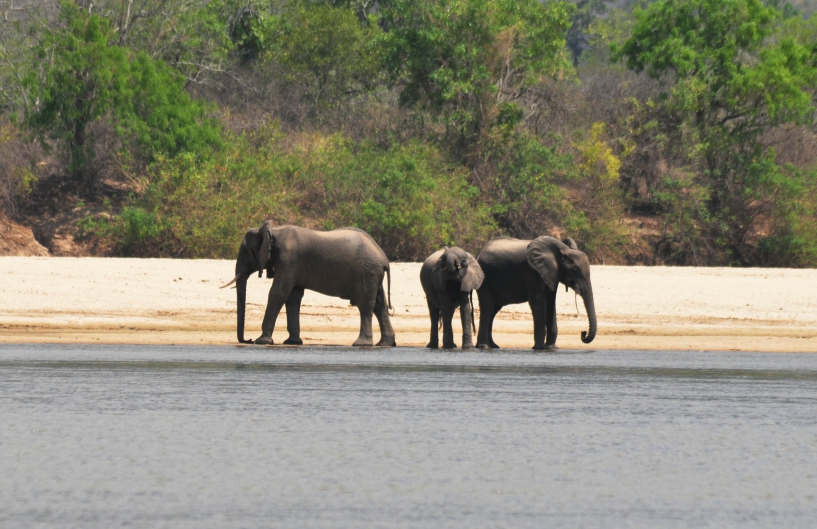 Then we embark on an overland day-long safari. I'm even willing to overlook the maddening bites of the tsetse fly, but only because of our animal sightings – just douse yourself in insect repellent, don't wear black or navy and use the small leafy tree branch, given to you by your guide, as a fan to ward them off.
Besides, what's a few bites when half an hour after leaving our the tented camp we spot a tail-swaying leopard laying on a horizontal tree branch along the main road. This is the fourth time he's been sighted on three consecutive days and with around 4 000 leopards and lions in the park, it seems everyone, guests and staff, has a story about one or the other. Fellow guests share photographs and recount their stories, while the General Manager Elietta, tells us of the time he opened his front door one scorching October to find a chui (meaning leopard in Swahili) drinking water from a bucket of water on his porch. Needless to say he was housebound until the animal had quenched its thirst.
I can't imagine things to get much better, but galloping giraffes cross our path, kudus camouflage themselves in the thicket and a herd of zebras have us confused as to their numbers. Along Kibonde Highway – actually a straight, single lane dirt road through the savannah open woodland – we spot a hyena with her cubs and a troop of baboons.
Shortly after our tea break near the banks of one of the park's four great lakes, we sight a pride of six lions with their fresh wildebeest kill. We watched as a panting, bloody-mouthed lioness dragged it beneath the shade of a larger palm tree. After we continued driving we spotted yet another pride of four lions, it seemed as though they had just eaten as they were lazily lying about, or perhaps they were just being 'lion'.
Later, we lunched beneath an acacia tree as elephants grazed in the distance and hippos wallowed in the shallow muddy waters. This is nature's cinema at its best, which certainly rivals National Geographic. After four days we had spotted well over 135 animal and bird species. "Yes," I think to myself, "I'll take that as a trade off for tsetse flies any day!"
If you enjoyed reading about Tanzania's southern safari circuit, then you may also want to read about my safari in the Serengeti (northern safari circuit) during the Great Migration.
***
I flew directly to Dar es Salaam from Johannesburg courtesy of Fasjtet (Africa's low-cost airline). I also write for their in-flight magazine so it was great reading my article on board. Here's where you can read more of my freelance work. I was invited to Selous Game Reserve by Serena Hotels and wanted to share my experience with you. I maintain full editorial control of all content published on this website. You can find more of my photographs from this trip on my Instagram account.